OLD-TIME DANCE


---

The Old-Time Dance returns to Mount Airy on the first Saturday of the month all year except June. Area bands take the stage at the Old-Time Music Heritage Hall at the Historic EARLE Theatre for an evening of old-time dance favorites for all ages. Group tours are welcome.

$5 Admission at the door or Free admission with a Current Season Pass
(Children under 6 are free)



Historic EARLE Theatre
142 Main Street
Mount Airy, NC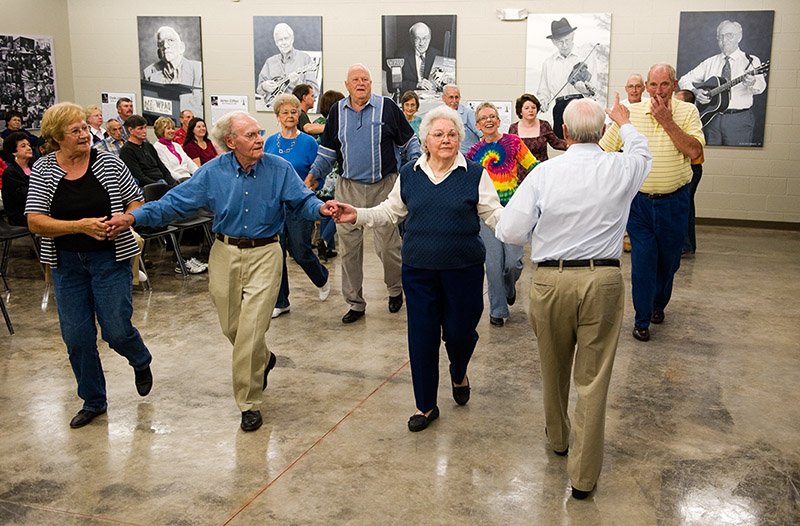 Mark your calendar for the Dance dates:

| | |
| --- | --- |
| June 1, 2013 | Mountain Park Old-Time Band |
| June 7-8, 2013 | Mount Airy Fiddlers Convention |
| July 6, 2013 | Zephyr Lightning Bolts |
| August 3, 2013 | Slate Mountain Ramblers |
| September 7, 2013 | Iron Mountain Ridgerunners |
| October 5, 2013 | Round Peak Ramblers |
WUNC FOLKWAYS - MUSIC OF SURRY COUNTY
Watch WUNC-TV production of Folkways hosted by David Holt and learn more about Old-Time Music and its start in Surry County, NC.
A Tribute to Ralph Epperson
WPAQ 740 AM

On Groundhog Day, 1948, the people of Mount Airy tuned their radios to 740 on the AM dial and heard the first radio station they could call their own. WPAQ was the brainchild of Ralph Epperson, an Ararat, Virginia native who had been fascinated by radio since his early teens. In his application to the Federal Communications Commission, Ralph pledged to reflect the cultural and musical values of the people in his stationís listening area. He promised he would provide a showcase for local talent at his station. That promise has never been broken. The weekly Merry-Go-Round, the third longest running live radio broadcast in the nation, was created as a spotlight to promote area musicians. Many of those have become traditional music iconsóBill Monroe, Lester Flatt and Earl Scruggs, and Mac Wiseman to name a few.

Today the Merry-Go-Round continues to host the stars of tomorrow drawn from right here in the Blue Ridge. The Merry-Go-Round returned to its roots in Downtown, Mount Airy in 1998 on its 50th Anniversary. It is broadcast from the Earle Theatre (142 Main Street) from 11 a.m. to 1:30 p.m. each Saturday. Join us for the live broadcast and experience the Merry-Go-Round or tune your Radio to WPAQ AM 740. Admission is only $5 or you can purchase an annual pass for $20. You can also stream online through their website at www.wpaq740.com.