Tickets for select theatre performances are available with Visa, MasterCard or Check. Sales end a few days before the first performance date in order to have time to process your order. You can order tickets by calling the Surry Arts Council at 336.786.7998 or stop by their offices in the Lower Level of the Andy Griffith Playhouse. Business hours are Monday-Friday, 9:00 a.m. to 5:00 p.m. All Surry Arts Council tickets are non-refundable.

North Carolina Entertainment Taxes provide that the 7% sales & use tax must be stated and charged separately on movies, museums, & event admission.


Performed by the Surry Arts Players
Saturday, September 17, 2016 at 7:00 p.m.
Sunday, September 18, 2016 at 3:00 p.m.
Monday, September 19, 2016 at 7:00 p.m.
Andy Griffith Playhouse
Tickets $15 (plus tax)
Available by calling SAC at 336.786.7998
Set in the 1930s, the Sanders family perform traditional and bluegrass gospel songs for the Mount Pleasant Baptist Church. This musical includes many familiar gospel songs, including "Amazing Grace" and "I'll Fly Away."
Don't miss this return performance, especially if you are in town early for Mayberry Days.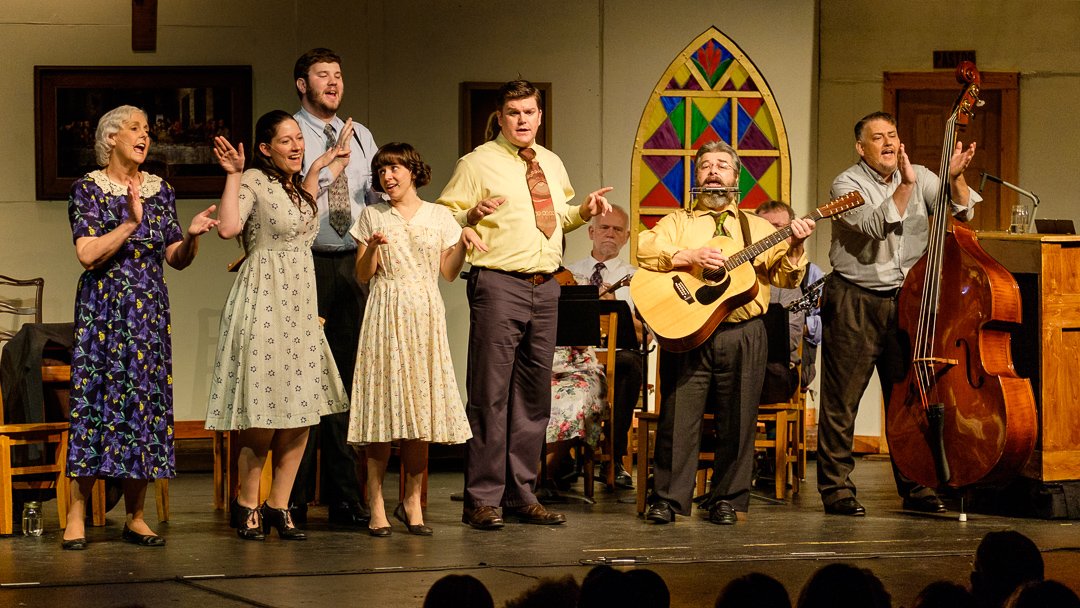 The Surry Arts Council is now scheduling costume rental appointments. SAC costumes and they are ready for rental so call us with your holiday (and other!) costume needs.
Viewing is by appointment only - please call 336.786.7998 to schedule
Rental rates are flexible and very affordable. Costumes to choose from include:

Poodle skirts, Indian, 1800's, military, flapper, chicken, bunny, witch, snowmen, Santa Claus, Mrs. Claus, Scottish, medieval, Romeo and Juliet, Biblical, tuxedos, evening gowns, renaissance, dresses, wigs, crinolines, wedding gowns, and much more!!!
Remember us for costume parties, school projects, church plays, or any other event that you need to dress up for!
Don't throw those old clothes and hats away!!!
The Surry Arts Council accepts donations of clothing, hats, props and more for use in our theatrical productions. Your donation is tax deductible.